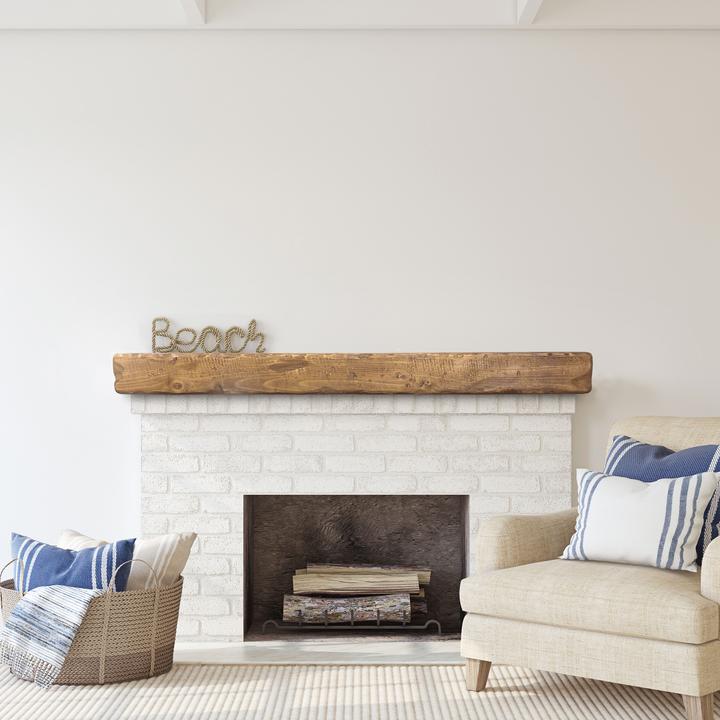 Why You Need a Floating Mantel in Your Home
There is no doubt that the fireplace is truly a focal point of any home. It is a place where friends and family gather, and it deserves to be highlighted. One way to enhance the look and feel of your fireplace is to add a floating mantel to the space.
What is a floating mantel?
At Helm & Home, we offer a variety of mantels, which are wooden beams that can be placed above your fireplace. Some of these mantels are held in place by mantel brackets or straps. One of our most popular types of mantels, however, are our floating fireplace mantels.
Our floating wood mantels appear as if they are just floating on your wall. There are no visible brackets or hooks holding it in place. This type of mantel looks beautiful in any home and is a great option if you want more of a simple-looking mantel.
We offer two different types of floating mantels: our rustic fireplace floating mantel, as well as our modern fireplace floating mantel. We recommend choosing one over the other based on the style of your home and fireplace. The rustic mantel looks great with a traditional fireplace, whereas the modern mantel looks sleek and stylish with newer fireplaces, or electric fireplaces.
Both options come in multiple colors and sizes. Both the rustic mantel and the modern mantel come in four colors, seven lengths, and four heights and depths. Additionally, if none of these sizes fit your need, we can work with you to accommodate custom sizing.
Although these mantels look like solid wood beams, they are actually constructed as a hollow box. This saves weight and makes installation easy. We find this to be a great option for a floating shelf mantel, but if you need a solid beam, contact us. We have a limited selection in stock.
How is the mantel installed?
All of our mantels are crafted to be installed easily. The average homeowner has all the tools needed and the skill level necessary to install our floating mantel. We also provide you with an installation guide to help.
We designed our floating mantels to make installation quick and easy: it should take only ten minutes. You will need a pencil, a bubble level, an electric drill, and a stud finder (if you are installing into drywall).
For our floating shelves, you will need to drill two screws into your wall. This is beneficial if you ever decide to take down or move your mantel. You will not have to worry about having to fill in tons of drill holes.
Overall, installation of our mantels should be a breeze. If you run into any issues, don't hesitate to reach out to our team. We can assist you with any questions you may have.
You can either pick up your order from our shop, or we can deliver to anywhere in the country. If you live near Milford, CT, where our wood shop is located, you can pick up your piece. Otherwise, your mantel will be shipped via UPS. We typically ship your order within 1 to 2 weeks.
What is so great about a fireplace mantel?
There are many benefits to adding a floating fireplace mantel to your home. As we mentioned, the fireplace is a gathering place in the home. Adding a mantel to the area can add a classy touch to the space. Plus, there are several ways you can personalize your mantel to really make it feel like a part of your home.
Our floating fireplace mantels act as a shelf where you can place various items. Adding photos, decorations for upcoming holidays, or other items to your mantel can add a personal touch to the space.
Some popular items that people put on their mantels are artwork, flower vases and plants, candles, and various small decorative items. These items can add depth to the space and fill in any empty space.
To make the space more personalized, many customers fill their mantel with framed photos of family and friends. Another way to personalize your mantel is to add items that have special meaning. This can add to the warmth of the space.
Other customers prefer to leave their mantel bare, and instead place one large item on the wall above the mantel. This one large item could be a painting, a mirror, or a television. Placing your mantel in a family room with a television can be a perfect separation between your fireplace and your television.
How can you get one of your own?
If you are looking to purchase one of our mantels, you can do so easily on our website. Under the "shop" section of our website you can see all of our different mantels and accessories that we offer. 
On this section of our website, you can browse all of the different options that we are currently selling. You can see example photos, as well as descriptions of each product. Then, with just a few clicks you can choose your style, size, and color of the mantel you want.
Purchasing a mantel on our website is simple, and you can order it to be shipped straight to your door! We hope that the entire process, from ordering to installation, is easy and enjoyable for you.
To order a floating mantel from our team, go through our website. If you have any questions, give us a call at (877) 555-9300 or visit our FAQ page. We would love to help you add a beautiful mantel to your home!