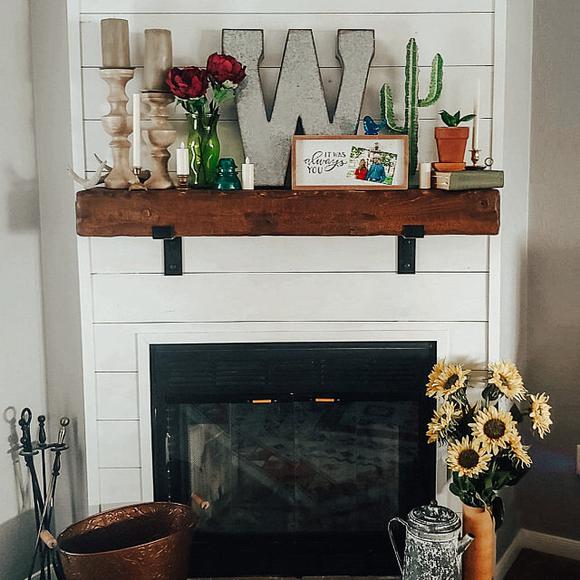 Tips for Maintaining a Safe Reclaimed Wood Mantel
Pairing a fireplace with a reclaimed wood mantel can look stunning, but making sure it's a safe addition to your home is equally as important. While our products are guaranteed to be safe and sturdy, it's always smart to review some tips to keep your home safe.

A reclaimed wood mantel can be one of the most beautiful pieces that you can add to a home. It can be a spectacular focal point for any room and can bring a cozy, old-fashioned appeal to an already beautiful fireplace.

The purpose of a mantel is to showcase the items above your fireplace. Family pictures, floral arrangements and sentimental items that have been collected over years of overseas or domestic travel can enhance a mantel and make it the focus of discussion when family and friends visit your home.

But caution must also be taken if the fireplace is used to produce heat for the room. A gas-burning fireplace is relatively safe, but if wood is burned regularly, sparks and embers could create a safety hazard if decorations or plant material is allowed to hang too close to the flames.

Be careful with hanging decorations
Some of these tips may sound like no brainers, but you'd be surprised with how complacent people can be when it comes to fire safety. From Christmas stockings to low hanging plants, anything can be a fire hazard if it's too close to a fire.
Today, many people are starting to realize the benefits of installing a reclaimed wood mantel in their home. Not only is it incredibly affordable but it is also durable and beautiful. The main thing to remember about a reclaimed wood mantel is that they must be cared for properly to ensure years of use.
Many people do not realize the importance of properly cleaning their wood products and could end up damaging them if the right products aren't used. It is important that they be cleaned on a regular basis so look great, regardless of the time of year. We suggest occasionally dusting your mantel with a feather duster or a vacuum with a brush attachment. A damp cloth can be used to remove any marks or stains.
If you are interested in a reclaimed wood style mantel, visit our website and see the different sizes and colors that are available. If you have any questions, you can call (800) 830-5767 and speak directly to a Helm & Home representative.

We'd love to work with you to make all your home decor dreams come true!