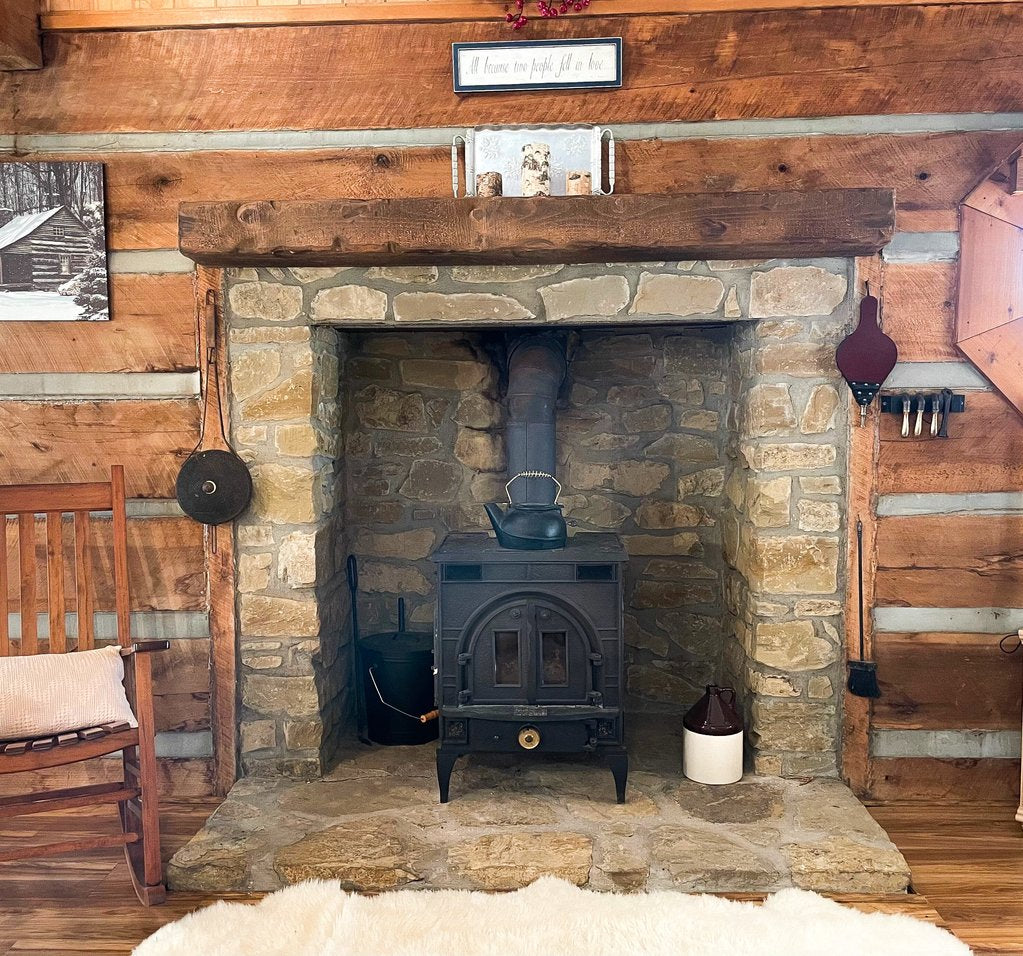 Tips to make Your Fireplace Mantel Decorations Unique
Here at Helm and Home, we firmly believe that a fireplace is a focal point of your home. It is guaranteed to draw the eye of all of your guests when they enter the room. Therefore, it is very important to have a fireplace mantel that compliments your home.

Helm and Home carries a popular line of real wood mantels that are offered in four different stains. You can customize the size of your fireplace mantel to ensure the shelf length fits perfectly onto your wall.

A wood mantel is fun to dress up and it can add so much character to any room. There are so many directions you can take with your decorations, so we wanted to break down a few trends we have been seeing lately.

Make it Seasonal
One of the easiest ways to decorate your fireplace mantel is by having it change with the seasons. Mantels are perfect for holiday decorations which can really bring the room together.

For example, you can continue your Christmas tree theme onto your mantel. Lay a garland across your mantel or add a vase full of ornaments on top of it. You could even add stockings to the mantel which is guaranteed to impress the little ones on Christmas morning.

If it is currently transitioning to spring, add some floral decorations to your display. You could even incorporate some light colored candles on some holders for a pop of color.

This is a perfect way to keep your display looking fresh and new. Of course, you can change it as often as you please depending on how much you enjoy the decorations.
Choose a Centerpiece
If you are looking to impress even more with your fireplace mantel, choosing a centerpiece may be key to your decoration. With the fireplace under the mantel, it always looks nice to balance it while increasing the overall height of the room with a large piece mounted on the wall. There are a few paths you can take to achieve this modern look.

A flat screen TV could be the best option depending on the setup of the room that your fireplace is in. A large television always looks sleek above a mantel. When mounting your television, we recommend having an idea if you wish to still decorate the mantel. Not decorating would give it a simple, minimalistic feel which always looks clean, but if you do wish to decorate it, make sure you leave yourself enough room under the TV.

Art always makes a statement in a room, especially over a mantel. Depending on your decor, you could choose a large piece with color or neutrals or find one with a gorgeous metallic frame to make it stand out.

Also, we have noticed that layering art pieces have been very trendy lately. Find a few pieces that look nice and have them resting against each other. You don't even have to mount them if you don't want to, which allows you to switch them out whenever you want.

Having a giant clock mounted above your mantel is definitely a way to catch your guest's attention. There are so many different looking clocks that can really pull a room together. You may want to look for one that's vintage in a thrift store to get a more cozy feel.

Mirrors have a similar effect as that of a clock. Metals have been in lately, so a vintage mirror would look great and compliment any room's decor. Look for one with a more unique frame to really make it an attention-grabber.
Add Another Layer
At Helm and Home, we sell beautifully crafted wall mounted shelves that will look perfect on any wall. And guess what? They are so easy to install. Another wood shelf would look excellent above the fireplace mantel. Our shelves come in the same stains as our mantels, so they will match perfectly.

By adding a floating shelf, the extra piece of solid wood is giving you more surfaces to place ornaments or other items and take your room up a notch. The shelf depth offered by a mantel or a floating shelf can be the perfect place to display a collection you have acquired on travels overseas.
It's Easy Being Green
For the plant lovers out there, a fireplace mantel is the perfect spot to show off your green thumb. Plants add a vibrant pop of color to a room that is painted white. You can choose adorable pots to match the rest of your decor. You can also line up any succulents on the fireplace mantel shelf to give a cute symmetric look.

Helm and Home not only offers great quality and beautiful looking furniture for your home, but we also pride ourselves on being eco friendly. Visit our website to shop our mantel selection today. We would love to see how you make your fireplace mantel decorations unique.