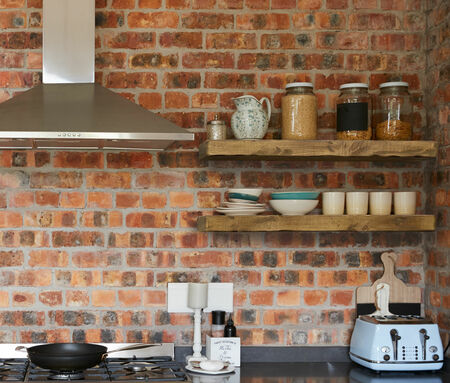 How To Decorate Your Apartment With A Floating Shelf
Nowadays, apartments seem to be shrinking, and finding storage space has become quite a challenge. Fewer spaces have built-in bookshelves or even have window sills to put your plants. An easy way to add some extra storage space and help you get the most out of your limited apartment size is to add a floating shelf or two.
If you're unfamiliar, a floating shelf is pretty much exactly what it's called: a shelf with no visible brackets so it appears to be floating on the wall. Most people use floating shelves for storage purposes or to add an extra level of design to an empty wall. Floating shelves are incredibly versatile, too, as they come in a variety of styles and sizes.
When it comes to the length of your shelf, keep in mind what you're trying to store on said shelf. Typically, the smallest floating shelves are around 12  inches long and the largest floating shelves are 84 inches long. 
If you're using your shelf to store a single plant, you may opt for a short shelf. However, if you have a lot of wall space, you can easily use larger floating shelves to create a wall of photos, memorabilia, or display mementos of worldly travels in a creative and timeless way.
Beyond what you're trying to use the shelf for, you should also take into consideration the space you have to put the shelf. Many people place floating shelves above their television in their living rooms to create the effect that the television blends in with the wall rather than standing out. The shelf helps draw the eyes upward instead of settling straight on the television.
Other people will put a floating shelf or two in their kitchen to store dishes. This is a perfect option if you don't have much cabinet space in your kitchen or if you're looking to close up some awkward space between the fridge and cabinetry.
If you do decide to add floating wall shelves in your apartment and you want to use them for your own personal library, you'll want to have a long think about how heavy your books weigh. If you're using a couple of floating shelves to store your rather light comic book collection, you're in luck because most floating shelves hold 30lbs per shelf. However, if you're a lawyer looking to store every book of case studies you own, you can always add metal J brackets which significantly increase the weight capacity of the shelf.
Our top suggestions for how to add a floating shelf into your apartment are for kitchen dishes, library shelving, for a pop of color, to store your plants, as a statement piece, and the list goes on. If you're looking to add some floating shelves as home decorations in your apartment, Helm and Home is here to help. 
Helm and Home is a sustainably sourced shelf and mantel maker that makes finding the right accessories for your home easy and accessible. To get started with your shelving adventure, have a look around our
website
, or call 1-800-830-5767 to have a chat with one of our experts.