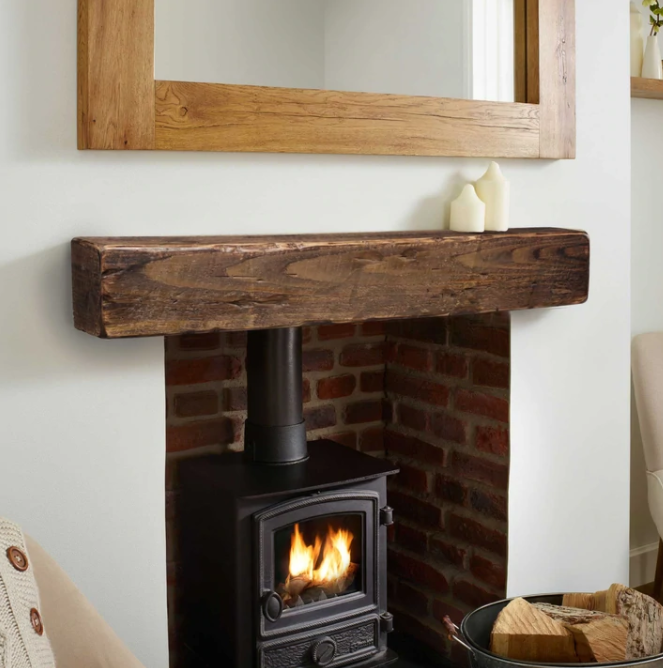 Choosing The Right Fireplace Mantel
Fireplace mantels are one of the most versatile pieces of furniture you can install in your home. They give extra storage space, a great foundation and platform for interior decorating, and are an excellent motivator to get your loved ones together and enjoy a complete living room experience. But, with so many options and models available, it can feel like a daunting and overwhelming endeavor to pick out the right fireplace mantel for your home!

Luckily, Helm & Home has your back. Below are a few of our best tips for picking out the right fireplace mantel for your home.
Look to the rest of your home for inspiration
The best place to start when considering which model of fireplace mantel to purchase is to look at what will become its surroundings. Many homes (and especially their occupants!) have a unique style and taste that can be further exemplified by installing a matching mantelpiece.

Helm & Home offers fireplace mantels in both a sleek modern style constructed with cut pine, as well as hand hewn rough and rustic styles that can be the finishing touch in your creative vision of your living room.

Rustic style mantels are great for homeowners that want a warm and lived in feel for their living room. These mantels can greatly impact the appearance of a living room, and bring a homely feeling.

Modern style mantels are excellent for those seeking a sleek and sharp aesthetic. Especially with floating shelf style mantels, this 'impossible' mounted shelf can act as a great foundation for more contemporary decor that will be showcased on and around the mantel.

Given the fireplace's central importance, a fireplace mantel shelf will likely be the focal point of your living room. A wood mantel shelf provides a great opportunity to build an arrangement atop it. Not only does the style of mantel affect the feel of the room and it's overall appearance, it can also impact the creative vision of what you put on the mantel, which will ultimately become the centerpiece of your living room.
Ease of Installation
Another thing to consider is the installation of your mantel. You'll want to consider the material you'll be mounting to, such as drywall or brick, as well as the space surrounding the fireplace.
Helm & Home's mantels utilize a hollow design in order to make them lightweight and give our customers an exceptionally easy install experience. With minimal wall anchors, our mantels are highly versatile and can be installed on virtually every surface and application. Not only can these mantelpieces be installed on traditional wood fireplaces, they can even be utilized for gas and electric fireplaces.

Another important thing to consider when shopping for a fireplace mantel and deciding between different designs is the applications they will be used for. Although floating mantels are still very sturdy and hardy in the face of extended use and lots of arrangements, for those who expect to put their mantel through particularly strenuous use, we recommend considering a fireplace mantel with metal brackets for extra strength.

Although floating box style mantels are strong enough to handle virtually anything you can throw at it, mantels with metal brackets can withstand the largest ornaments and the well fed-est of grandkids. Owners of fireplace mantels with metal brackets can rest assured their new showcase will last through decades of wear and tear in the toughest of conditions.
Choosing the Right Size
Fireplaces, as well as the rooms that surround them come in all shapes and sizes. As such, it is crucial to consider the dimensions of your new fireplace mantel before you purchase it and embark on it's installation.

Helm & Home offers mantels of all designs, colors, and mounts in lengths ranging from 4 to 7 feet (48 - 84 inches), as well as depths and heights ranging from 5" x 6" all the way up to 8" x 8". We are confident that we can help you find the perfect fit for your space.

There is no one size fits all solution to finding the perfect fireplace mantel for your home, and it is much more about your personal taste than specific dimension rules! Mantels do not need to be the same width as the fireplace they accompany, and 'oversizing' your mantel may give you extra space to store and show off your favorite keepsakes, photos, and other mantlepiece accoutrements.

We do, however, recommend you consider the wall, chimney, or hearth behind the fireplace. If the space around the fireplace is not much bigger than the fireplace itself, then a large mantel may look a bit too big and out of place. However, if there is a large space surrounding the fireplace, then an oversized mantelpiece would look right at home.
Final Thoughts
Mantelpieces will often become the focal in the room in which they are installed. As such, it is important to accentuate them with your own personal tastes, surrounding style, and utilize the space they provide as a presentation of the collectibles they may hold, making them a centerpiece instead of simply an afterthought.

No matter if you prefer a rough 'n' tumble rustic style with hand hewn wood, metal brackets and a light, organic stain; or a sleek, modern, and contemporary floating style with hard edges and refined milled wood in a dark stain; Helm & Home has you covered.

Our mantelpieces are built with our customers in mind, allowing you to get the exact design, coloring, mounting, and dimensions in order to achieve the perfect realization of your living room vision.

If you are considering purchasing a fireplace mantel, are curious about their many different styles and mounting types, or are curious about the installation process, do not hesitate to contact Helm & Home. Please visit our website, or give us a call today at (877) 555-9300 to get started on transforming your fireplace today.