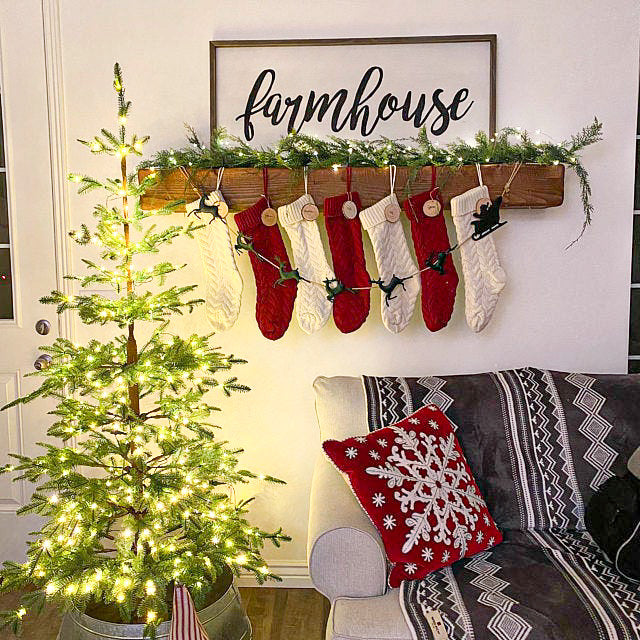 Add a Beautifully Rustic Mantel to your Home
If you are looking to add a beautiful and functional touch to your fireplace, our rustic mantel is the perfect addition for you. 
A mantel is a great addition to your fireplace for several reasons.
Functional
First, is its functionality. Our rustic mantel is a great place for storage, as our floating shelves can hold 35 pounds and our mantels can hold more than 80 pounds of decorations, photos, or any other items you want to prominently display. Our mantels are sturdy and durable.
Beautiful
Another reason to add a mantel to your fireplace is for beauty. Fireplaces are often the center of the home -- it's where friends and family gather to spend quality time together. Since fireplaces are such a central feature of a home, why not make it beautiful by adding a rustic mantel!
Variety
At Helm & Home, we offer various types of mantels. We sell a floating fireplace mantel, which looks as if it is floating on the wall. We also have a mantel that is supported by metal brackets, and we sell a mantel that features metal rivet straps. No matter which variety you choose, a rustic mantel will surely be a charming feature in your home.
Customized
In addition to our variety of different mantels, you also have the option of custom sizing, so that your mantel fits perfectly above your fireplace or on your wall. If you want a custom mantel, reach out to us and we will work with you to create the perfect piece for your home.
High Quality
Here at Helm & Home, we pride ourselves on creating great quality products. We believe in the integrity of our craftsmanship, and want to create mantels that are stylish and durable. This is why we personally design and handcraft each and every mantel we sell.
In the event of any defects in our workmanship, all of our furniture has a lifetime guarantee. We want to make sure that you love what you are putting in your home. If there are any concerns, we encourage you to give us a call!
Environmentally Conscious
Our team at Helm & Home is very environmentally conscious, and we create furniture that uses environmentally friendly materials that are sustainably sourced. We believe that the products we make should not only be great for you and your home -- they should also be good for the environment. With this in mind, all our finishes and stains are water based, which further reduces our impact on the environment.
All our mantels are designed and manufactured in a way that makes installation easy. Although our products may look heavy, they are actually lightweight and easy to install. On our website, we have detailed installation guides for each of our products, so do-it-yourselfers should have no problem installing a mantel in their home. 
Say Hello!
Our wood shop is located in Milford, CT. If you are local, you can pick up your piece in person. If not, no worries! We ship our mantels via UPS all across the United States.
If you have any questions about our products, or about which mantel is right for you, don't hesitate to reach out. We would be happy to help you find the perfect mantel for your home!
To learn more about our rustic mantels, take a walk through our website or give us a call at 1-877-555-9300. We'd be happy to answer any questions you might have