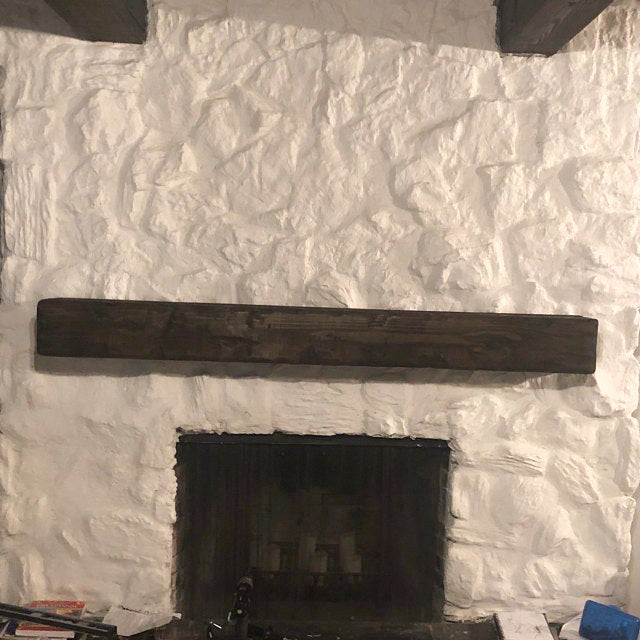 The Ultimate Guide to Decorating Your Fireplace Mantel
A fireplace mantel, also known as a chimney piece, is a beam, stone, or arch that surrounds your fireplace. In medieval times, this piece was used to catch smoke from the fire, though, with time, it has grown to become a space to display home decor.
Some choose to decorate by placing pieces of art, mirrors, candles, photographs, etc. atop their mantel. Whichever you choose, your fireplace mantel becomes the focal point of your living room, so it's important to give it some panache.
It should go without saying that your mantel should make sense with the rest of the room. If the rug and couch fabric are neutrals, it isn't in your best interest to have a bright, vibrant mantel. Think of your mantel as a blank canvas that can be added to at any point in the year to change up the look of your living room or add a level of sophistication. Here are some tips:
Color Palette
Before starting, determine your color palette to create a cohesive look and tie everything together nicely. If fall is approaching and you are looking to turn your living room into a cozy cabin and cuddle up by the wood fireplace, consider rich colors for your mantel. Wood mantels are the perfect option for this feel. 
Also, adorn your mantel with a few metallic or matte black objects or artwork. Add a flannel blanket and some old prints to add a real rustic feel. If you're not sure what metallic color palette to use, think gold, bronze, and copper or rust. Brighter silver is perfect for Spring and Summer, so save any objects with those colors for later in the year.
Another option is to go full monochromatic: all white, all black, or maybe all wooden. If you choose the monochromatic route, be sure to add a few accents of gold or silver here and there to add some pop so your mantel doesn't become dull and flat. It's all about balance.
In Spring, consider transitioning to a white or neutral color palette to brighten up the room. Add a few plants for a pop of life, but be sure not to over-mix different materials. Mantels are small and can easily feel cluttered. Stick with the rule that less is better and add one item at a time so you don't over-clutter.
Odd Numbers
As a general rule of thumb, stick to odd numbers when it comes to decorating your mantel shelf. Your eye is drawn to symmetry and patterns, but it is also drawn to centerpieces. If you work in even numbers, there is no centerpiece. So, use symmetry and odd numbers so your fireplace mantel really catches the eye. 
You can also move your centerpiece just off-center and begin layering to catch the eye in a different way. Likely, your centerpiece will be the anchor of your mantel and will therefore be the biggest item. If you place it just off-center, people will be sure to notice. Be sure to add layering to make this placement look intentional.
When layering, remember to stick with odd numbers and begin to vary in shapes, sizes, textures, and patterns. A little bit of layering is good, but try not to overcrowd the mantel and don't make it overly symmetrical. Once you get started, you'll be able to tell when too much is really too much.
If you are looking to get technical with an artist's eye, try to follow the infamous Rule of Thirds. The Rule of Thirds is a type of composition in which an image is divided into thirds and the subject is placed along one third. This one can be a bit tricky when it comes to finding balance, so proceed with caution. In most instances, you'll just have to move around objects until you find what works, there's no easy answer.
Greenery
When it comes to deciding what you are actually going to decorate the mantel with, it's always a nice idea to add some greenery or plant life. House plants add a variety of organic shapes, textures, and colors to your mantel. Consider draping and ivy or a long pothos down either or both edges of the mantel. 
If your mantel doesn't get much sun or you don't find yourself to have much of a green thumb, head over to Michaels or any craft store to pick up some fake foliage. However, if you do have a green thumb or your mantel gets the perfect amount of light, take a trip to your local plant nursery and pick up some easy to care for plants. Some plants do better near large amounts of dry heat than others, so that is something to take into consideration.
If you have a particularly stringy plant, consider running it across the length of the mantel. Many people drape garlands and wreaths along their mantel during the holiday season, think evergreen boughs and holly. Why not throw a few miniature pumpkins on the mantel for Halloween? The other great thing about plants is that then you can customize the pots they are in, too. 
Art & Mirrors
It seems like a no-brainer to add art to your mantel, but choosing the right piece of art and subject matter can make or break the look of your mantel. If you have a sleek electric fireplace and want a minimalist mantel to match, reach for minimalist, abstract works of art. Considering matching the frame of your desired piece of art to the color of the fireplace insert.
If you don't want to poke holes in the wall with a nail, simply lean the piece of art mirror or against the wall. A recent trend has been to buy several smaller mirrors of varying sizes rather than one large mirror. Buying several small mirrors is often more budget-friendly as many thrift stores sell smaller mirrors for cheap. Simply repaint the frames of the mirrors to achieve a unified color palette. 
Infinite Possibilities
If you get tired of any artwork you choose, fireplace mantels can be decorated and re-designed at any point in the year. All you have to do is go out and buy something new. Every year, your mantel can look a little bit different, every season even. Because the mantel surrounds the fireplace, there should be something to tie the two together.
Before you can even consider decorating your mantel, it's important to have a mantel in the first place. Helm and Home, an eco-friendly, sustainable sourced mantel maker, is here to help. Helm and Home makes finding the right mantel for your home easy by offering mantel shipping as well as a variety of mantel accessories. To get started with your fireplace mantel, take a walk through our website, or reach us by phone at 1-800-830-5767.