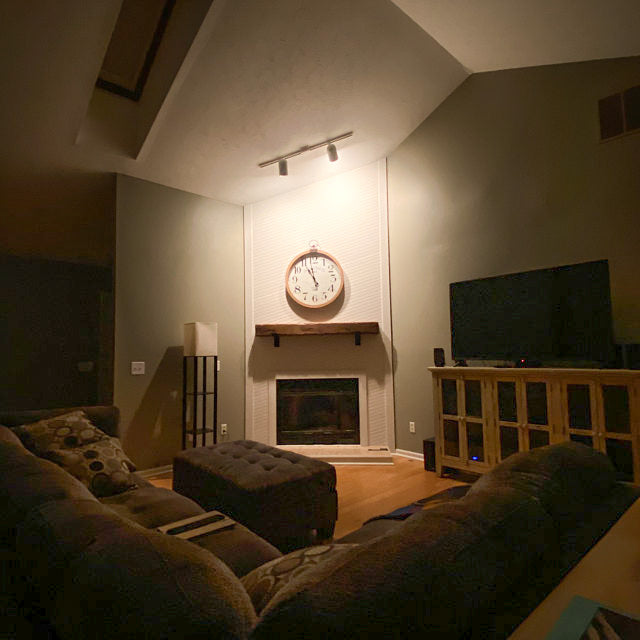 Wood Mantels: The Answer For Winter Living Room Decor
One of the greatest joys of the winter season is enjoying all of the beautiful scenery of snow and evergreens… through the window… from the comfort of your living room! As such, fireplaces become an essential part of this seasonal vibe. Few things feel better than being a recluse for a few hours and enjoying a toasty fire. But, many soon realize that their vision of a perfect snowy day is marred by some lackluster scenery in their own living room! As a feature that is seldom used in the warm months, a fireplace can often find itself receiving less attention than other parts of the house, and once finally put in the spotlight, can feel a bit bland or seem akin to an afterthought. Luckily, there is a simple solution to the boring old fireplace. Wood mantels are an excellent way to spice up your fireplace, and give it some extra flare, and even some much appreciated extra utility!

Below are a few of our favorite reasons to install a wood mantel this winter.
Extra Utility
One of the main reasons people choose to install a wood mantel in their home is the added storage space, as well as a great surface to showcase keepsakes.

Helm & Home's wood mantels come in a variety of dimensions and styles to seamlessly be added to your home and immediately give you its benefits.

As the fireplace is often the focal point of the room, installing a fireplace mantel shelf gives a great opportunity to show off your decorating skills, as well as store some miscellaneous knick knacks, art, family photos, and any other collectibles you may not have a great place for.

This makes the mantel a great place to make something akin to a 'family mood board' where you can showcase heirlooms, portraits, and even seasonal decorations to get your loved ones in the spirit of any upcoming holidays.

In addition to providing a foundation for some festive and heartfelt decorating, wood fireplace mantels can even ultimately save you money! Fireplaces have long been renowned for their warmth and entertainment. When beautified, their central importance to the house can be experienced in its full glory. Adding a wood mantel can be a finishing touch to finally encourage you and your family to gather around the fireplace, enjoy its endless electricity free entertainment and warmth. This means lower gas and energy bills compared to not fully utilizing your fireplace.
Likewise, with all the extra reason to gather around the fireplace, this simple addition of a wood mantel can bring the family closer together. I mean, who doesn't love a toasty, aesthetically pleasing fireplace (with some compulsory hot cocoa for the kiddos, of course)!
Stunning Living Rooms
As previously mentioned, by adding a bracketed wood mantel or floating shelf style mantel near your fireplace, surrounding it with ample space for your own creative input, the sky's the limit for your own decorating imagination.
One of the most popular uses of a fireplace mantel is for creating seasonal arrangements (or event related arrangements, such as birthdays, too!) to accompany the rest of the home's decor. With the central importance of a fireplace, a wood mantel is a great place to set the tone or theme of your decorating.

When not relying on a specific theme, as mentioned earlier, the fireplace mantel is a great place to make a 'family mood board', an arrangement that displays unique interests and family collectibles and heirlooms that may otherwise not be given the spotlight.

Not only does this present these collectibles in a good light, it also gives even more reason for the family to come together and spend time on a project collectively!

Helm & Home offers a variety of wood mantels in all different dimensions, styles, and colors in order to ensure your new mantel fits seamlessly into your home. Not only do we provide sleek and modern made of high quality cut pinewood, we also offer rustic style rough hewn wood mantels in order to match every style of home.

Both of these styles are available not only as a floating shelf 'hollow box' design that makes our mantels lightweight and easy to install, but also with metal brackets in order to give a sturdy, industrial farmhouse look and feel.

Our mantels are available in a variety of colors, ranging from golden oak to storm gray stains, easily blending seamlessly into the surroundings and suiting your personal design fancy.

Before you buy a mantel shelf, it's important to measure the space where you plan to install it, as well as considering the best way to affix the mantel to your wall or fireplace. In addition to considering which mantel can best fit into the allotted space, another thing to consider is the mantel's surroundings and their proportions. Although mantels that are bigger than the fireplace they accompany are often a welcome aesthetic choice, they can sometimes seem out of place when paired with a particularly small surrounding wall or fireplace hearth. As such, it is good to consider how the various sizes of mantelpieces will look when accompanied not only by your fireplace, but also when paired with the fireplace's surroundings.

If you're unsure of how to install a wood mantel, there are a great number of online tutorials that can help you. Helm & Home offers instructional guides on our website, as well as many third party guides around the web. Similarly, there are many helpful videos on sites like YouTube that can give helpful tips in specific situations and guide you through troubleshooting any problems you may encounter.

If you are curious about wood mantels available from Helm & Home, their many uses and applications, or are interested in the installation process, we are here to help. To learn about the many models of mantels and shelving units we offer, visit our website or give us a call today at (877) 555-9300.