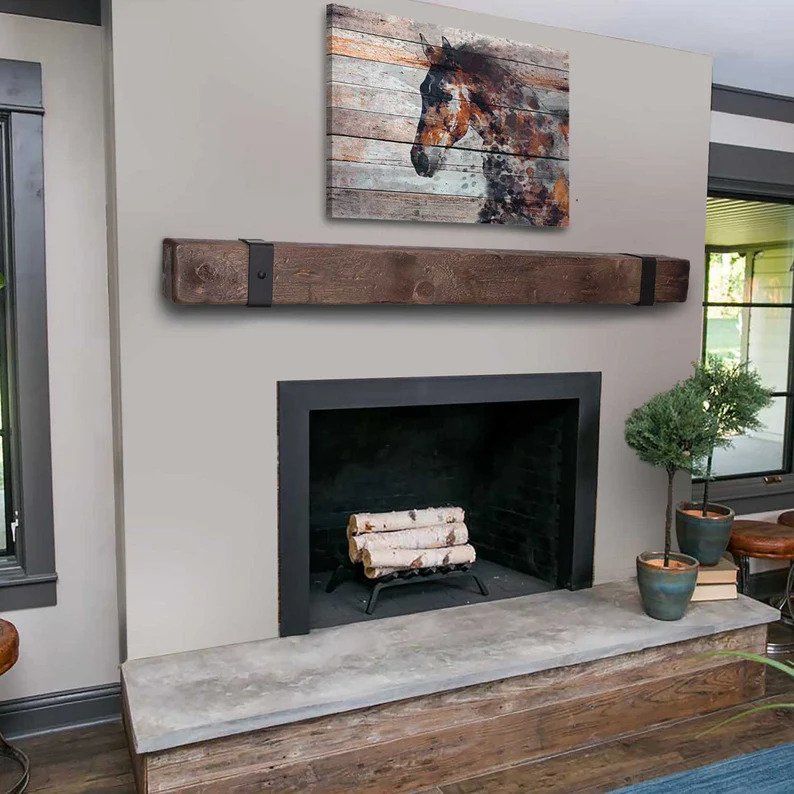 The Journey of Our Reclaimed Wood Mantel: Saved from Landfills and Repurposed Into Furniture
One man's trash is another man's reclaimed wood mantel. The wood we use to make our hand-crafted mantels has been on a long journey. In its past life, the wood may have come from a well-used barn but was destined to have become garbage in a landfill. 
We will not stand for this sad ending for the beautiful wood beams and flooring. Just imagine the stories an old barn beam could share if it were given a chance. 
We give the wood a new life with a new purpose! We repurpose the old wood to become a beloved reclaimed wood mantel. We breathe life back into the wood with beautiful eco-friendly finishes to repurpose it and give it a new home. By saving wood from a devastating final chapter, we are helping the environment and combating climate change.
Reclaimed wood eliminates the need for continuing deforestation, which negatively impacts the environment and destroys the homes of cute, little forest dwellers. Many items that end up in a landfill could be recycled into useable objects. 
Since we use a hollow box design, we get the most use out of reclaimed wood while making it easier for you to install. We deep-clean the wood we save from landfills to remove any dirt, grime, and old finish, then refinish the wood in a low- VOC finish to create a beautiful reclaimed wood mantel. 
Our modern mantels are sanded before applying a finish, while our rustic mantels are rough cut and sanded enough to remove fraying edges. Our mantels come in a variety of sizes and can even be custom built to fit perfectly over your fireplace. We have a lovely array of mantel accessories to make your mantel unique and match the style of your home.
Buying a reclaimed wood mantel from us guarantees that you are practicing ethical consumerism. When consumers choose to purchase ethically-sourced products, it forces businesses to increase their sustainability efforts. Companies are taking notice of consumer buying preferences and will change if they see that consumers are more mindful of supply chain practices. You can trust that every step that goes into making our mantels is done in an ethical and sustainable way. 
Fireplaces create a cozy and inviting atmosphere, and the mantel framing it should do the same. Our mantels fit any and every style. Go for a charming farmhouse look or enhance a modern, sleek room. 
For the minimalist, it is a stand-alone statement piece. For people that enjoy filling their homes with cherished items, it is a gorgeous place adorned with family photos, nicknacks, and other treasures. 
We are doing our part to prevent climate change, and we appreciate that you are doing yours! Thank you for supporting our business and the environment! For more information about our company, read our About Us page. If you are in the market for a new mantel, take a gander at our reclaimed wood mantels.