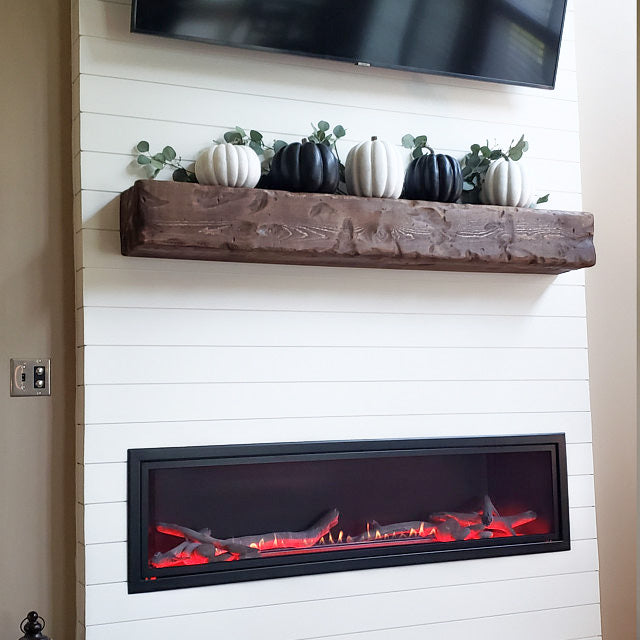 Friendly Advice about Installing a Wood Mantel
Any home renovation can be daunting, especially when you're doing it yourself. Whether working on projects big or small, everyone can use a helping hand sometimes. Here at Helm and Home, we want to make your experience as stress-free as possible. So, before you start installing your new mantel, put your tools down, take a seat, and listen to our friendly advice about installing a wood mantel. 
Reference our Installation Guides Page
Before you begin anything, be sure to reference our installation guides page. This is very important, as these guides will tell you exactly what tools and parts you need, as well as specific steps in your installation process. Knowing the difference between a floating mantel and a metal bracket mantel is crucial when installing your new product. 
Safety First
At Helm and Home, we value your safety during this process. For the protection of yourself and your home, remove all fragile objects, pets, and small children from the direct area. Once you've prepared your space, ensure that all of your parts are separated and your tools are within reach. You will be working with an electric drill or hammer (depending on your product), so use caution and become confident in your ability prior to starting your installation. 
Using the Tools
During this process, your eyes may deceive you! Therefore, the usage of a level is crucial. We advise that you do not rely on your eyes alone to mark the location of the bottom of your wood mantel. Rather, place the level on top of your mantelpiece, and mark accordingly along the bottom of your product. You should have a perfectly straight line, ensuring easy bracket placement. 
When drilling or hammering in your brackets, it may be helpful to have a second pair of eyes! If possible, ask a family member or friend to help you during this process. They will be able to tell if your brackets move off the pencil mark as you drill or hammer. For a perfectly mounted wood mantel, these brackets' support ledges need to be at the same exact height as the mantel's bottom. 
Admire Your Work
Once your mantel is mounted, you can both step back and admire your excellent work. 
To reference what your mantel's placement should look like, feel free to visit our customer installations gallery. Here, we have dozens of success photos, showcasing our customers' beautiful rustic wood mantels in varying colors and sizes. These photos can be very helpful in deciding your product's placement in relation to your fireplace!
If you feel unsure at any point during your installation, do not hesitate to ask Helm and Home about any concerns. You can reach our FAQ on our website at HelmandHome.com/pages/faq for questions regarding your mantel's material, size, color, weight capacity, and shipping processes. If you don't find your answer there, reach out! You can chat with us directly at HelmandHome.com, call us at 1-800-830-5757, or email info@helmandhome.com. 
Once you have installed your new mantel, send us photos of your proud work! We would love to see your unique take on our classic product.