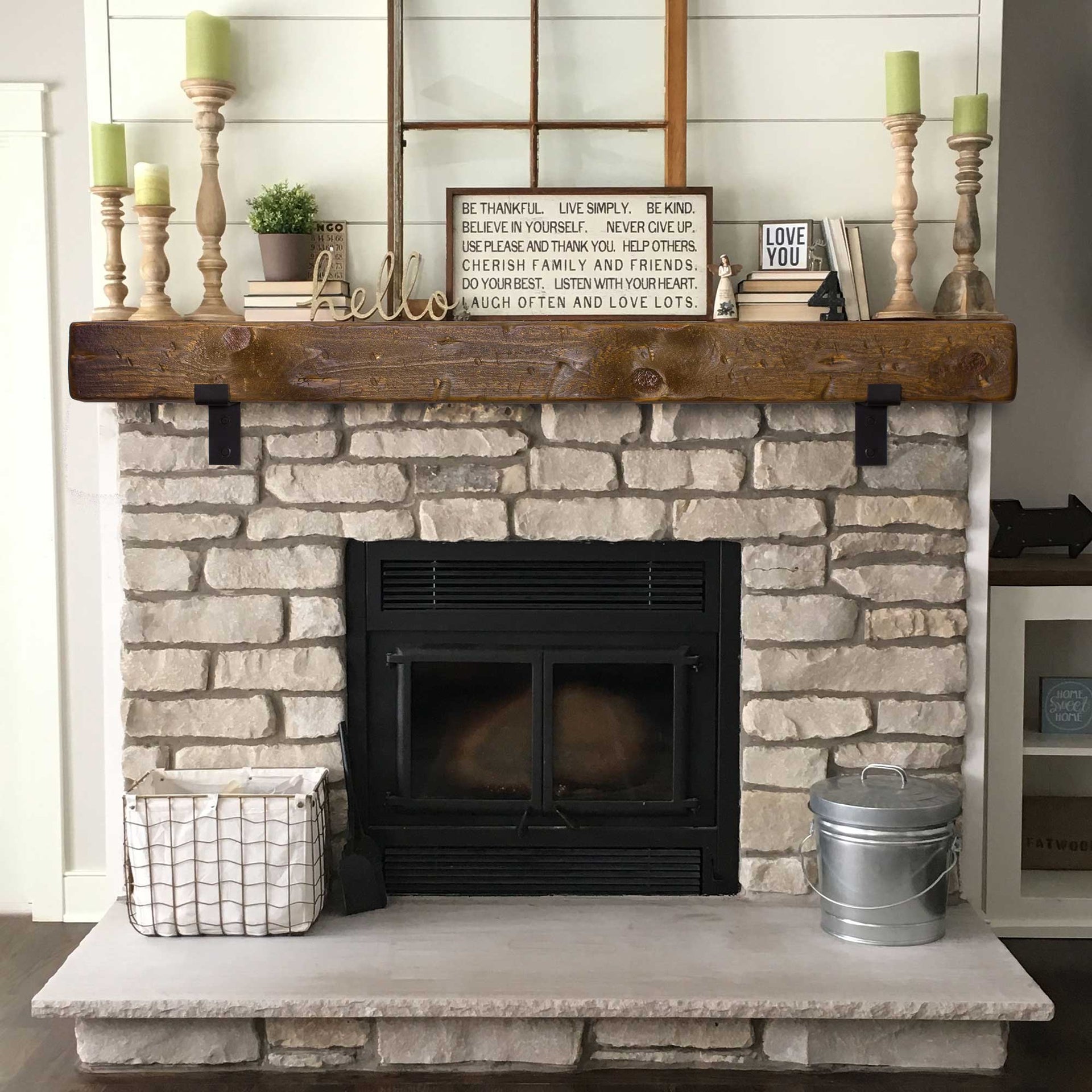 Discover the Heart of Your Home with a Customizable Fireplace Mantel
At Helm and Home, we know that a fireplace mantel is more than just a fixture -- It's a gateway to your home. Mantels and shelves hold your greatest memories, designs, and artwork, all within your home's primary gathering spaces. That's why we ensure that your mantels are made with utmost care and quality assurance. Our team at Helm and Home wants you to see excellence, so we work with the finest materials to ensure your satisfaction. At Helm and Home, we create more than just a product -- We create an experience.
With a variety of lengths, heights, and colors, our mantels allow you to customize your space to your liking. For example, our popular Rustic Mantel with Metal Brackets ranges in lengths from 48 inches to 84 inches! Additionally, this gorgeous mantel comes in walnut, golden oak, and early American colors to best suit your home. These mantels are made from authentic rough-sawn pine, providing the perfect rustic look of a barn beam. The best part? Helm and Home uses eco-friendly finishers on our wood, guaranteeing a happy home and a green earth. These customizable options for your mantel give you artistic freedom, further allowing you to personalize your unique space.
Decorating your home provides the perfect opportunity to showcase your own flair. Often placed in common areas, the fireplace mantel is the best place to exhibit your inner designer. Modern mantel decorations often include mirrors, plant life, lights, or even jars. Depending on the layout of your space, these types of decor could be ideal for your home! Other mantel owners decide to give a more individualized feel to their rooms, placing family portraits or sentimental items on the mantel. At Helm and Home, our mantels can hold up to 80 pounds, while our floating shelves can hold up to 25 pounds. Be cautious when adding belongings to your mantel, as overcrowding can result in damage! Nonetheless, no matter your method of decorating your mantel, you'll be sure to create a space you love. At Helm and Home, we're honored to help you find the best product to display your prized possessions, artwork, and decor. 
We love to hear success stories about all of our products! Our loyal customers provide insightful testimonials about our products and services, allowing us to enhance our work every day. One of our happy customers, Daniel, writes, "We had very specific measurements and they accommodated everything. Was very grateful they could turn it around in about 2 weeks and deliver it to our home. Quality totally met our expectations and we were very happy we ordered from them." At Helm and Home, we are devoted to creating your fireplace mantel in the most suitable way for your needs. We're proud to provide such exceptional service to satisfied customers like Daniel! To read more testimonials and reviews from our delighted customers, visit our website at HelmandHome.com/Pages/Reviews. 
Our team at Helm and Home is dedicated to delivering the utmost quality and service to your home. With help from our custom mantels and shelves, we will guarantee that your newly-personalized space thrives. Visit HelmandHome.com to view our entire selection and learn how you can further transform your home.