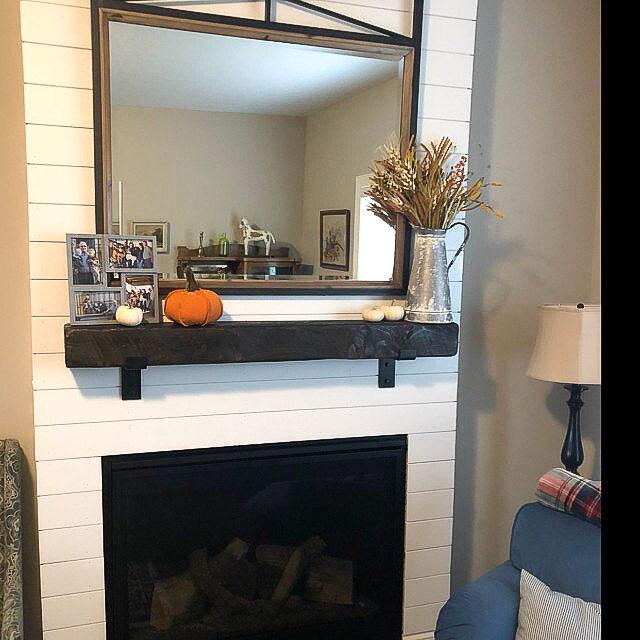 Add a Mantel With Metal Brackets to Your Home
At Helm & Home we offer a variety of different mantels, and one of our most popular is our
rustic mantel with metal brackets
. This mantel is beautifully hand crafted and will make a great addition to your living space.
Our rustic mantel with metal brackets is a wooden beam that has two mantel brackets that are attached to the wall. Available in a selection of standard and custom colors it is guaranteed to look amazing above any fireplace.
The wooden mantel itself is made of 1" thick rough cut saw kerf pine that is kiln dried. Although they may appear as one solid beam, they are actually constructed in the form of a box that is hollow on the inside.
The brackets supporting the mantel are made of solid steel. This metal looks great and is extremely sturdy. Every material we use is hand selected by our team, so you can feel confident that you are getting only the best materials.
If you are considering purchasing a rustic mantel with metal brackets from us, know that our mantels are not 'one size fits all'. We offer a variety of lengths, heights, and depths to ensure that your mantel fits perfectly above your fireplace or on your wall.
We can make a mantel for you that has a length as small as 24" or as long as 84", with many size options in between. Additionally, we offer heights and depths as small as 4" high x 6" deep, and as big as 8" high and 8" deep.
We hope that this variety allows you to choose a size that is fitting for your home. Also, if you need a custom size, you can
contact us
and we will work with you on custom sizing.
We offer our mantel with metal brackets in different colors, including "Early American" and "Walnut." "Early American" is a lighter finish, whereas
"Walnut" is a dark stain
. Both colors use the same wood and topcoat.
For this mantel, we also have two different bracket options. The default option is the flush mount, where the mantel and bracket both sit on the wall. This is the bracket size that comes with the mantel unless otherwise specified.
Our other option is the step mount. This type of mantel sits directly on top of your fireplace, and the metal bracket mounts to the front of the fireplace. If you want to go with this option, please let us know. No matter which option you choose, you will receive the same strong material that makes our brackets heavy duty.
Our heavy duty floating shelf supports large amounts of weight. In fact, depending on which mantel you choose, it can hold between 35 and 80 pounds of weight. Our mantels are perfect for use as a shelf, or just a place for extra decorations.
You can pick up your piece from our wood shop, which is located in Milford, CT. If you do not live in the area, however, we can ship your mantel anywhere in the U.S. We ship our products via UPS, and usually arrive within 1 to 7 days.
To learn more about our rustic mantel with metal brackets, visit
our website
or call
(877) 555-9300
. We would love to help you find the perfect mantel for your living space.