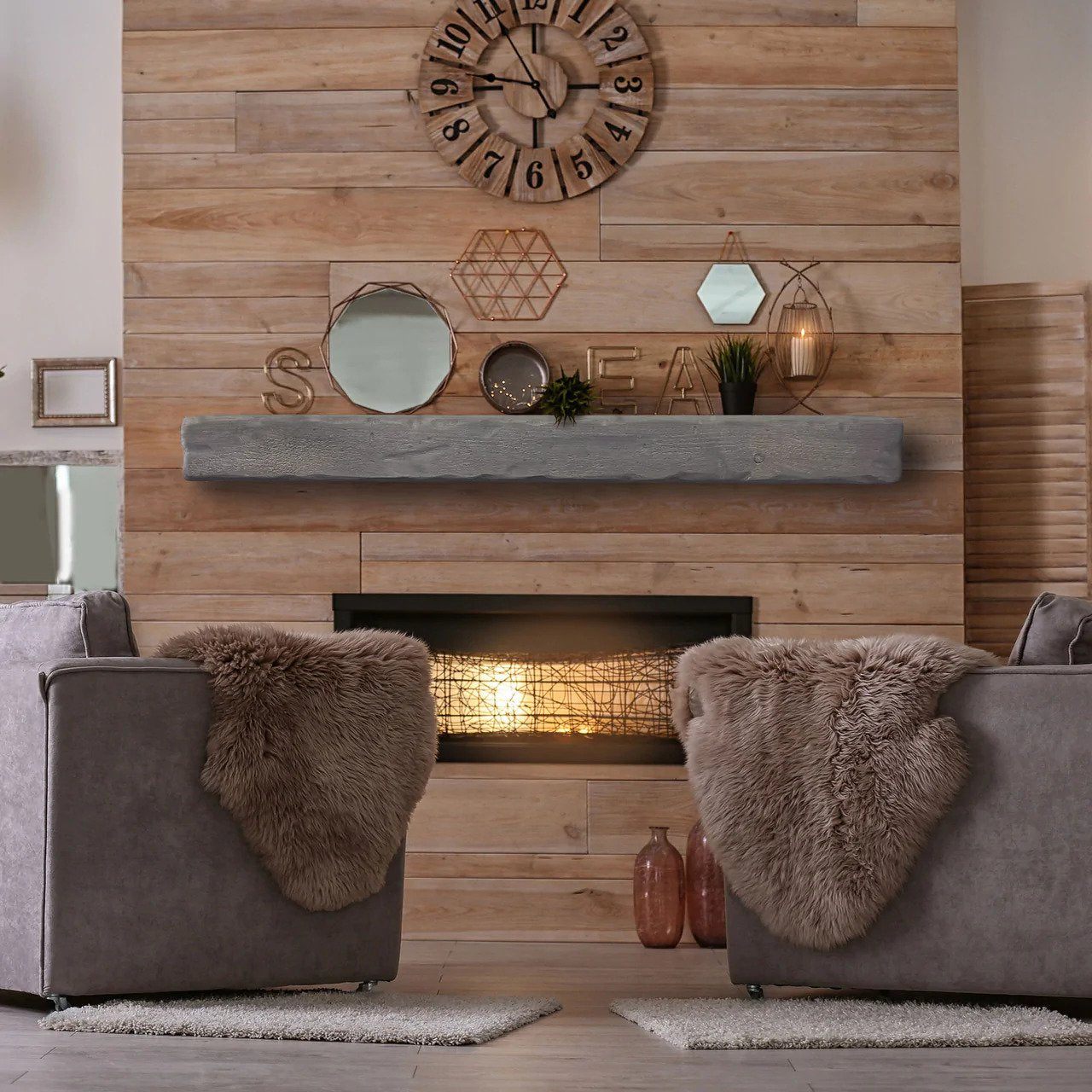 A Fireplace Mantel Dressed in Holiday Style…
It's December 3rd, and all the radio stations have decided it is already Christmas time. Your  presents haven't been bought, your Christmas dinner is still at the store, and you can't find a  holiday photo of your family where everyone is looking at the camera, but by god, you are  determined to get into the holiday spirit! And what better way of doing that than to decorate? 
Well, you're in luck, because you just installed a new Helm & Home fireplace mantel, and it's  ready for all the charm you can throw at it.  
Your bespoke rough-sawn pine mantel is the perfect canvas for silver bells and baubles of all  sorts. From a full 30 piece nutcracker collection, to a fresh cedar and spruce garland filled with  lights and pinecones, Helm & Home mantels can support up to 125 pounds of Christmas cheer.  Hang your stockings with care, fill them to the brim with all the gifts you can afford – your  mantel will hold it all. 
Helm & Home mantel add-ons are the perfect way to accessorize your new mantelpiece. Add an  electrical outlet to your mantel and power up all your Christmas lights and ceramic Christmas trees, speaker systems, and mounted TV without the unsightly cords hanging down the wall. You  can also choose our beautiful removable stocking hangers, fashioned from rustic square nails made in the USA, and easily lift and remove them at the end of the holiday season to return back  to a clean, contemporary look. 
Whether you prefer a warm golden oak, classic early American, or a more traditional walnut  stain, we design with you in mind. Your personal flavor of décor can only complement the  beauty and craftsmanship of our mantels. Our wood is hand-selected and kiln-dried, and made  from sustainable materials that are eco-friendly and durable. We construct our mantels in the  form of a box, and when they are finished, they look like a solid beam, but are light and easy to  install yourself. And, did you know you don't even need a fireplace to have a Helm & Home  mantel? 
Our wooden wall-mounted shelves offer all the luxury of a fireplace mantel, with none of the soot! Cozy, refined, and practical for those who have sentimental pieces to display, family  photos galore, or a bright and tasteful candle display for Christmas, Hanukkah, or Kwanza. Choose our Wi-Fi-enabled LED light enhanced option for your kitchen, to showcase your spices and canisters. Or mount them in your dining room as a floating bar. The possibilities of our  shelves are endless in your timeless home. 
Gather with your family and friends, kick back with a glass of wine or a cup of spiced eggnog,  and enjoy your cozy fireplace and its charming and sophisticated hand-crafted mantel. Mantels  are to a fireplace what eyebrows are on a face. It may not catch your eye at first glance, but it ties  the whole look together. You don't necessarily notice a mantel unless it's missing or until you  have replaced your old, outdated one with a new one from Helm & Home. Whether you prefer a  floating, bracketed, or rivet-strapped fireplace mantel, it's the gift you give yourself this year. 
For any questions about our mantelpieces, shelves, add-ons and accessories, or ordering in  custom sizes and colors, feel free to give us a call at 1-800-830-6767, email us at  info@helmandhome.com, or visit our website at HelmandHome.com. We want to work with  you to design your dream mantelpiece, and bring your vision for your home to life this holiday  season.
Written by Christiane Lee.